Quality House - a Co-organizer of the Third SEETEST Conference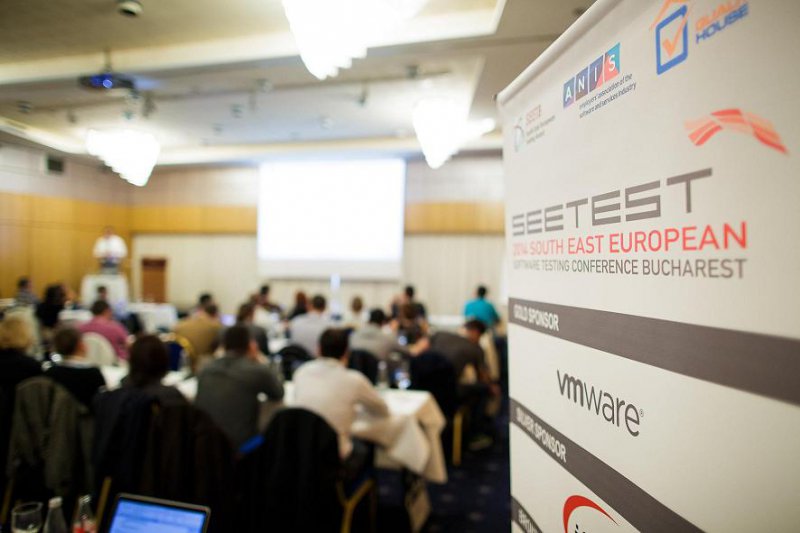 The Third South East European Software Testing Conference – SEETEST 2014 which was held in Bucharest, Romania on September 25-26, 2014 followed the great success of SEETEST conferences in Sofia, Bulgaria.
Out of over 35 tutorial and paper submissions from 11 countries, i.e. Bulgaria, Germany, India, Israel, Macedonia, Poland, Romania, Serbia, The Netherlands, UK and the USA, the Program Committee compiled an excellent conference program addressing a broad range of topics on software quality including Test Management, Mobile Testing, Performance Testing, Agile Testing and Test Process Improvement. The Conference featured keynotes and tutorials of internationally renowned speakers as well as high-quality presentations from members of the quality engineering community.
On September 25th and 26th, leading experts came to the Romanian capital to share the latest news, practical and research insights, experiences and advances in software quality and testing. The conference was a great opportunity for the international companies working in the software quality field to demonstrate their tools and services.
Claudiu Draghia's presentation of the Software Testing Map won the best presentation reward, and Robert Calangiu (Adobe, Romania) was rewarded for the best paper submitted.
The conference was attended by around 180 participants from 14 countries: Bonaire, Bulgaria, Germany, India, Israel, Macedonia, Moldova, Poland, Portugal, Romania, Serbia, The Netherlands, UK, USA.
The next SEETEST Conference is expected to come back in Sofia, Bulgaria.
Back to News