As software evolves with each decade and more precisely, each year, it is clear that it inevitably becomes more and more complicated and sophisticated.
That leads to more challenges both in creating the software and in testing it.Тhus, each year every software testing specialist faces new challenges and problems as to what course to take when starting the testing process of the software product.

The state of the IT sector as we see it now is shown in the chart below: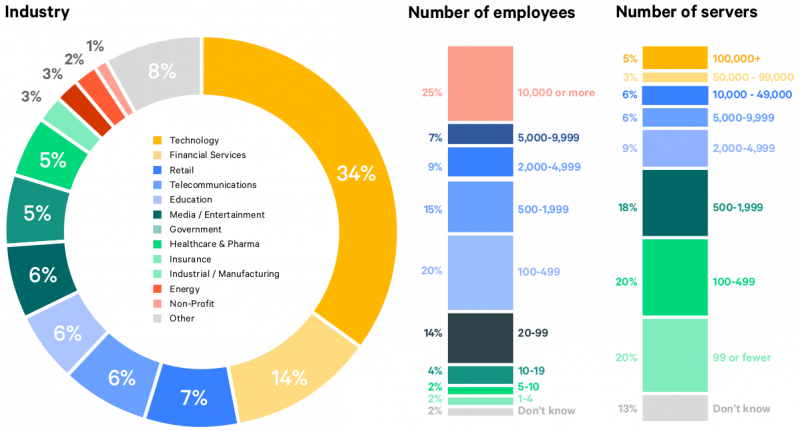 We think that in 2018 and in 2019 the main challenges include and will include mainly security features, virtual and augmented reality, data autonomy and the data consumer productivity problem.
Along with that, we see an increased adoption of digital experience monitoring and analytical solutions to better understand the end user.
But data must be read and interpreted correctly…and that, we might add is a consideration for a lot of the software companies.
We have done a thorough research during the last few months and we have come across a lot of articles stating that testing is dead, again. Whatever topic we decide to learn more about, in the end we always get to the point where it's announced that software testing is dead. Killed by DevOps, killed by the IoT (Internet of Things), killed by Automation.
To that we would like to say: "Testing is dead. Long live the Testing."

Still, defenders of the position that testing is dead usually argue that due to the modern software development techniques such as test automation, micro - services, continuous integration, delivery systems, production monitoring systems, and build rollback capabilities, in the near future the role of the software tester will become obsolete…
Not paying attention to these dark predictions, (after all, even humanity itself may become quite obsolete in the near future) shall the robotic industry and machine learning evolve quite quickly and in a manner that is not controllable, what is to happen with software testing?
We believe that the future of testing is….testing.
Sure, it will not be as simple as some people might imagine it to be, but it will not be so much different from now…and still, with the AI (Artificial Intelligence) development and the idea of Robot Process Automation (RPA), some of the activities of the tester might become redundant. The profession of the QA specialist will continue to exist and definitely, as software evolves, it will also evolve.

Below is a picture of the testing evolution: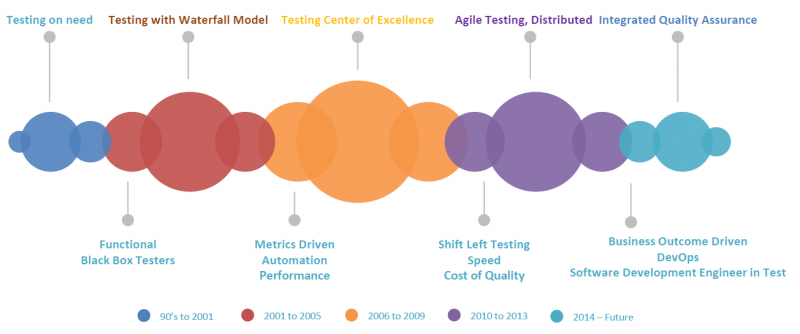 We, at Quality House, expect that by 2020, the business key performance indicators (KPIs) will be the contractual terms for 70% of testing in support of digital business operations. By 2020, Agile and DevOps initiatives will cause at least 75% of the enterprises to implement test automation. By 2020, 60% of testing resources will need to have a combination of testing skills, application development skills, and business process skills or industry skills. Yet, we have heard of those predictions before and they didn't happen. This time, having in mind the rapid development of the IT sector, we truly hope that at least some of these predictions will become reality.
We also expect that by 2020 providers unable to automate around 60% of their test execution will risk dropping out of the market. In reality, what we see and face so far proves that the percentage of test automation will be less than 60% though. It is also expected that by 2023 Home Smart Market will be worth 137.91 Billion USD and that by 2021 the global software market will rise by 14.4%.
At the same time, 2017 was a very exciting year for the software testing community.
In 2017, the adoption of the DevOps practices continued with great speed, the share of the test automation also increased, more and more tools for automating entered the market, the release schedules were shortened and big data testing was taking an even larger part of the testing process.

The surveys during 2017 showed that 65% of experts claimed that security is a top priority in testing – Capgemini Report 2016 – 17; HubSpot reported that 79% of people disappointed with web page performance are less likely to buy from this website again. These people are potential clients that can easily be lost for life. And, according to Forbes, cloud computing spending will grow 6 times faster from 2015 to 2020.

As you see, it is not that easy to make solid predictions, and even though it will probably go through a lot of changes, it is highly unlikely for the tester profession to die off soon. Join us in Part 2 of the Future of Software Testing for an even deeper dive into the nature of expected changes!